Stations of the Cross Presentation and Reception
Apr 30, 2018
Stations of the Cross Presentation and Reception
I recently had the honor and the privilege to paint the 14 Stations of the Cross for Saint Catherine of Siena in Simsbury, Conn. Father Michael Whyte commissioned a modern rendering of the Stations that would complement the church's minimal aesthetic, yet embody the passion of Christ's final journey. After several sketches and studies, we agreed on a vision. The result is a series that tells a story with intensely rendered figures and dramatic lighting. I worked through the winter of 2016-2017 on the 14 canvases and just before Holy Week, the paintings were installed.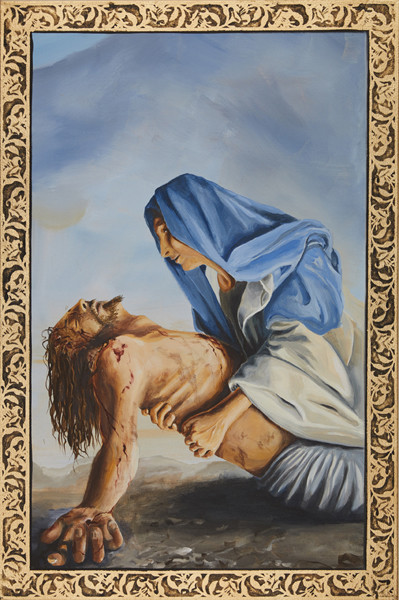 Each composition had to stand on its own, as well as anchor its unique chapter of a story that is so integral to the Catholic faith. Models posed as Jesus, Mary and Veronica. My Jesus model wore a wig and a "crown of thorns" that I wove from a vine from the plastic flower department of Michaels. I fashioned a small replica of the cross.
The 24"x36" acrylic paintings are done on unframed, gallery wrapped canvas. I gilded the edges of the canvases with a hand-made stencil of a lily - a symbolic connection to the lily of Saint Catherine, and a representation of the resurrection of Jesus.
On March 16, 2018, after a reading of the Stations, I will be giving a brief talk on the paintings, and will host a question and answer session at the church. All are invited to attend the 7pm event.
Location:
Saint Catherine of Siena
265 Stratton Brook Rd
West Simsbury, CT 06092