Greetings from lockdown
Mar 25, 2020
When I was little, I used to imagine being alone on a boat out at sea. I would imagine my adventures as I navigated the angry ocean waters, with no one to rely on but myself. As I write this I am not quite stranded, not quite alone, and not at sea, but isolated nonetheless. Joe and I have done our best to heed the warnings and stay home and away from people as much as is reasonably possible. What we are all experiencing is new ground and where we will end up is unknown.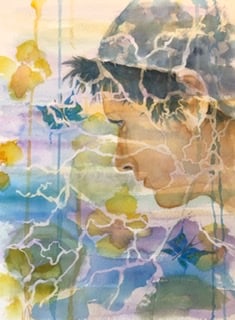 For many families this will be life-changing as many will lose their only source of income. For many children, this will define their childhood. As we navigate these uncharted waters, I am so grateful to all those who are working to make it more manageable. I've seen late night comedians broadcast from their homes to raise money for food banks, DJs host tele-dance parties to lift spirits, and, of course, people like my nephew Tom who go the hospitals to work and keep us safe no matter what.
Joe and I are fortunate. Joe can work from home, I can take commissions, and we both have more time to work on our project - converting a school bus to an RV. (If you haven't seen our bus, check it out on Instagram @a_bus_named_sandy.) And I've had more time to paint.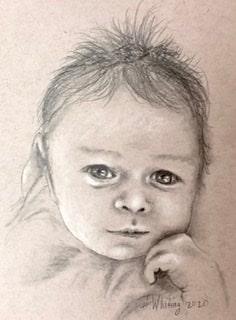 I was afraid I would have to stop my volunteer work of creating baby portraits for families at the Yale New Haven Children's Hospital NICU. But I've been able to continue that remotely from photos sent to me by parents. The NICU outreach coordinator tells me it means so much to the families, as well as the nurses, who, she says, beam like they've won the lottery when one of their tiny patients gets chosen to have a portrait done.
So please, if you can, stay home. My nephew and the staff at all the hospitals need all their resources to fight this thing. Like firefighters rushing INTO a burning building when everyone else is running out, these heroes go to where the sick people are to heal them, while all we have to do is go home. Use the time to paint or draw or write or read or play music. Or go back and rewatch all of Breaking Bad (it's worth it!). How lucky we are that we have the internet, so we don't have to feel isolated while we isolate.
Join my on Instagram or Facebook where I'll be posting all the cool stuff I'm working on. Let's stay connected!
Until we meet again,
Holly